Does your field sales force deliver for your business ….. and your customers?
Many organisations view sales force optimisation as a cost reduction exercise. Hardly surprising, when there are significant cost efficiencies available. But focus on cost alone is to overlook the size of the opportunity prize – and to ignore the needs of the customer! These organisations will nevertheless claim to be "customer-centric". Really?
Additionally, sales structures and territories may well be "broken" after years of recession. The time has come to gear up for growth to meet the changing needs of your customers before your competitors do.
Aligning your structures and territories with the needs of your business and your customers is one of the most powerful things you can do. Monitoring the activity of your team in the field and driving improved performance can then deliver competitive advantage, achieving a step change in the productivity of your field sales team. So, how should you approach this?
Start with a single customer view
Start with the customer in mind, rather than your sales force.
Check firstly whether you have a clear view of the value of each customer. Often we see duplicated customer IDs with different records for the same customer, where for example a call centre deals with different decision makers in the same organisation to those with whom your key account managers or sales reps have a relationship. Get the full picture by aggregating and de-duping your customer and transaction databases.
Segmentation analysis and scoring will identify and prioritise your most valuable customers and prospects. Understanding the needs of each segment will enable you to develop a value proposition and contact strategy that delivers for the customer in the most cost-effective way.
Customers can then be mapped and external data such as prospects visualised:
Target service delivery based on the needs of the customer and potential profitability
Some customers don't need expensive face-to-face interaction and a change to a more cost effective telesales channel may actually increase satisfaction and profitability. Others may be happy with a "light touch" relationship with sales visits only when required. Key accounts will need regular relationship management and sales visits, whilst customers with higher potential than being achieved may benefit from more visits than their current sales would suggest. Customer buying behaviour should influence contact strategy.
Align your sales territories and structure
Coming out of recession is a good time to review whether your current sales structure and territories are "fit for purpose" Isn't it time you optimised your field sales force structure and aligned your territories with your commercial objectives? Do the right thing for your customers before your competitors do, winning high value clients you were too busy to service. Tech4T can help you set your sales team up for success 
Get in control – monitor field team activity and stretch performance
Developing a single customer view, segmenting your customers, targeting service delivery and optimising your sales structure and territories are all things customer-centric organisations should do.
It's an easy mistake to make, to stop there without making a step-change in your ability to monitor and direct the activity of your sales team in the field. This is what world-class organisations do well – and you can learn from this – developing this capability doesn't need to cost the earth.
Being smarter about how you acquire, use and interpret the information you already have (or could have) will add huge value and could be the difference between average performance and exponential growth through competitive edge.
Tech4T offer a real-time cloud based sales planning tool and customer database – Territory Runner – to allow the field team to make the optimum visits to the right customers at the right time.
Capture data in the field
Tech4T's Territory Runner runs on tablets enabling field data capture. This enables you to report on and visualise time spent on different activities by your sales team. KPIs give you better Management Information to direct team activity and influence performance, monitoring and comparing performance by geography and customer segments.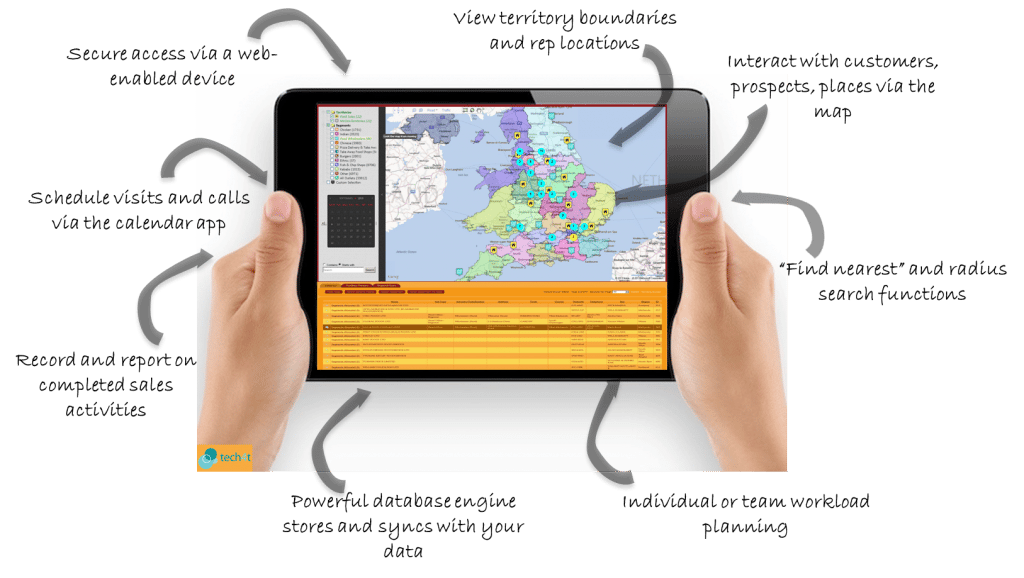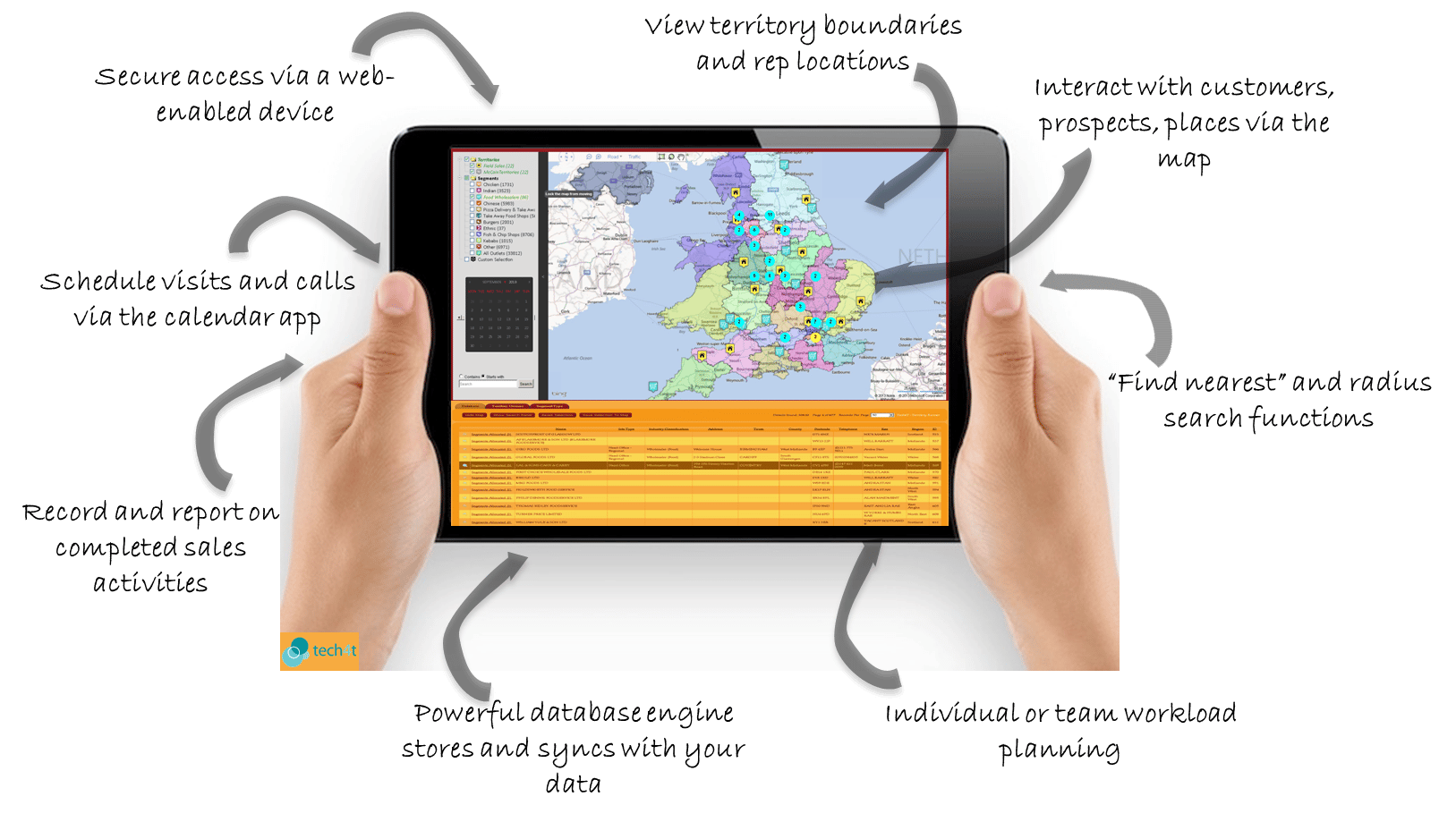 Data flows in both directions, Territory Runner delivers customer information such as sales history and growth potential to sales reps whilst in the field so they can plan and make more informed visits. Importantly, it results in much less wasted time; if an appointment is cancelled whilst a rep is in the field, they can view customers or prospects nearby and give them a call. Capture information in the field such as next visit, best opportunity, likelihood to buy etc.
…and find out how Territory Runner can help you improve field team performance and increase sales.
Whatever your industry sector, Territory Runner can be fully customised to suit the way your company works and its terminology. It's suitable for companies of any size from one man organisations to companies with sales teams of 1000+.
It will support mangers in implementing company strategy consistently and successfully, and field people to carry out their day to day activities more effectively and efficiently.
To find out how our solutions will improve field sales force effectiveness and efficiency, please call Graham Barlow on 01733 890790 or click here for our contact form