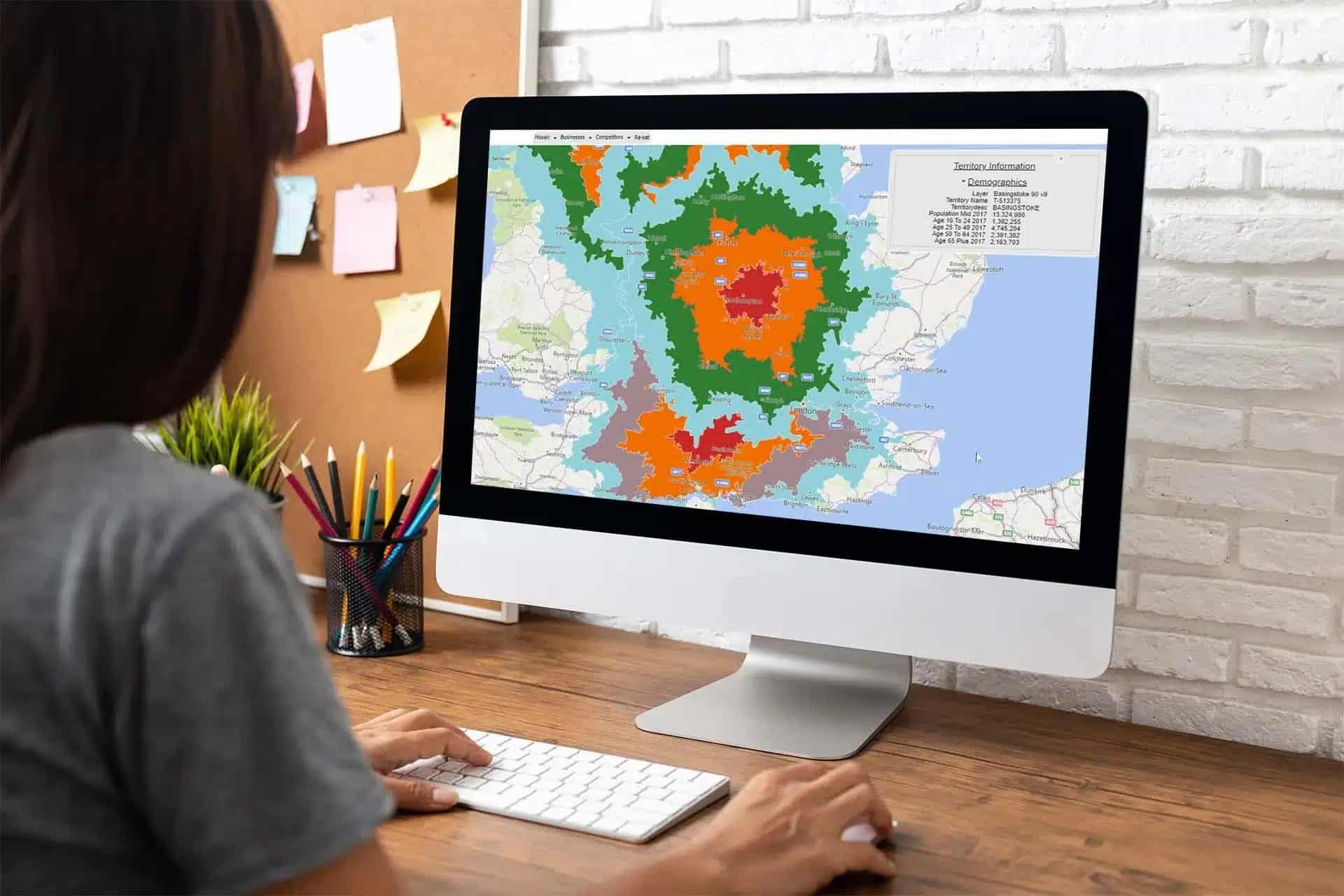 Franchise mapping software is a powerful tool for franchisors looking to grow, optimise and better understand their businesses. This innovative software allows franchisors to design territories that contain the perfect number of potential customers, and so are attractive to prospective investors.
By bringing together ideal customer profile data and either business statistics such as numbers or locations of businesses, or population demographic data, depending on who you're targeting, the software can enhance sales performance, boost efficiency and provide key insights into how a business operates and how it can expand in the future. Showing potential investors clear, concise and easy-to-understand data can make a huge difference when it comes to selling your brand and growing your business.
Demonstrate Commercial Viability
Franchise mapping software gives franchisors a huge amount of information about geographics, demographics and buying trends. This allows them to create commercially viable territories and show potential franchisees how these territories have been designed. With investors always keen to better understand their market and potential profitability, this can be a real selling point.
Efficient Territory Management
As well as being beneficial to franchisors during the territory mapping and creation process, the software can be used by investors when they become franchisees.
The information provided by the software can reduce travel time and fuel costs while maximising sales. After all, the less time franchisees spend travelling, the more they can put into building professional relationships and hitting their targets.
Visual Representation Of Data
Franchise mapping software presents data in an intuitive visual format. This can make it easier to spot patterns and trends in the market and create responsive sales and marketing strategies to take advantage of them.
Create An Expansion Roadmap
The goal of virtually every business, and every franchise, is to grow. Most companies want to expand their audience, increase their market share and boost profitability – franchise territory mapping can help businesses to achieve these targets.
Franchise mapping software allows you to create a range of useful and informative maps. These mapped layers can show your existing location, potential new franchise locations, demographic data and competitors. If your business is mobile, it can also help you to better understand your territory and its potential. Having this important data clearly laid out can help franchisees identify the areas likely to be most successful and create a roadmap for expansion.
Increased Efficiency
By using franchise mapping software, you can save time and increase efficiency in the franchise expansion process. For example, you can use franchise mapping software to reveal maps and demographic data sheets at the click of a button when sharing information with potential investors. As well as being impressive, having this information at your fingertips can help you get your message across and get new investors on board.
Both maps and datasheets are fully customisable, so you can show as much or as little information as you want at different stages of the sales process. These maps can then be inserted into contract documents later on, avoiding territory disputes in the future and ensuring everyone knows exactly where they stand.
Demonstrate Sales Potential
A big part of building a successful franchise is recruiting new franchisees and investors. Franchise mapping software allows you to easily share maps and data with prospective investors and colleagues, giving them valuable information and helping your business look professional.
Franchise mapping software can provide franchisees and franchise owners with a range of invaluable insights. To find out more and to learn how franchise mapping software could help you grow your business, request a demo or get in touch with a member of our team today.