Retail site location planning and franchise location analysis services from Tech4T takes the guesswork out of where to site your next outlet.
Combining our specialist software applications together with our experience in building successful territory structures we can provide you with the necessary tools, software and advice for all your retail site planning and customer facing location analysis needs.
We can show how your existing sites are performing together with the optimum geographic locations for siting new customer facing outlets.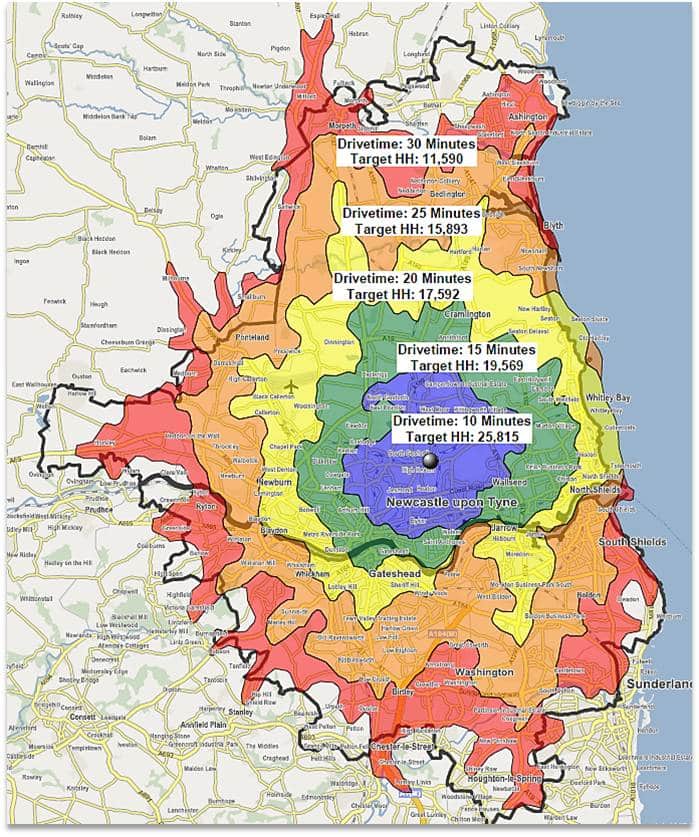 Whatever your business, using geographic mapping software outputs we can identify;
Where your customers are in relation to your outlets.
How far they travel and are prepared to travel to reach you.
How your outlets compare in financial performance and product mix sold.
What the population or business concentration looks like in the areas surrounding your outlets.
How different demographics influence your business.
How different geographies and transport infrastructures affect your outlets.
Where your competitors area.
Where your opportunities are.
At a glance you will be able to see areas where you are under-achieving or achieving desired market penetration and we will help you to understand why.
Using information gained about your existing business together with your objectives in mind we can help you shortlist site planning hotspots according to highest likelihood of success and return.
Our professional site planning and location analysis services are designed to provide you with a cost-effective way of modelling different scenarios and outcomes based on scientific fact rather than gut feel alone, at a price-point you'd be hard pressed to equal.
For more information use our contact form to get in touch or speak to us directly on 01733 890 790.