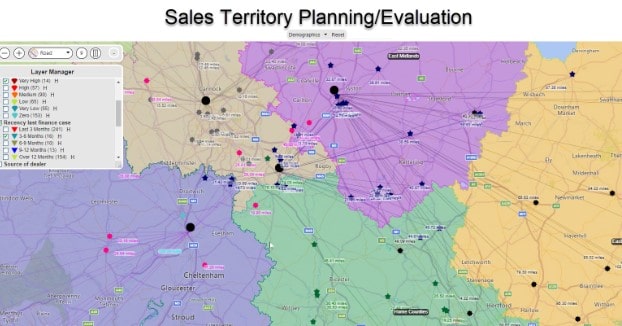 Creating a sales territory plan is a key part of building your business and mapping out your future growth. A well-built sales territory map will not only provide your sales team with an invaluable planning and analytical tool, it will also give your company focus and help your business to achieve its goals. To help you create a map that's useful, insightful and profitable, we're taking a look at the six key steps involved in mapping your sales territories.
1.Define the market
Before you can build a profitable sales territory plan, you need to define your market, understand your current share of this market and identify areas that offer the potential for growth. Think about the demographics and geographics of your existing customer base. For instance, where are your clients located? What sort of businesses or individuals are currently buying from you or using your services? And what are the key emerging trends in your industry?
Sales territory mapping software can be used to help maximise the untapped potential in your existing territories and identify and develop new markets.
2.Segment your market and set targets
Next, divide your total market into multiple segments based on their different needs and their value to your company. Set targets for these segments and think about how you and your team are going to achieve these goals.
3.Analyse the competition
Analysing the competition is a key part of sales territory mapping. Identify businesses offering similar products or services in each territory. Assess how competitive the landscape is and think about how you'll stand out from the crowd in each of your defined areas.
4.Determine the resources needed
Different territories will have different needs. Some areas, like those with dense populations or high levels of competition, may require more resources than others. Determine the ideal sales and support team sizes needed to effectively sell products or services in each territory.
5.Budgets
Assessing your budget at this point will help you to use your funds more effectively later on. Remember that it may not be possible to acquire all resources, so compromises will have to be made in order to make the most of your sales strategy.
6.Consider territory hierarchy
Finally, you'll need to consider your territory hierarchy. For example, you could divide the country into regions and then subdivide these regions into smaller, manageable sales territories. Creating a territory hierarchy will make it easier to track progress, analyse results and allocate resources.
To learn more and find out how we can help you create a profitable sales territory plan and grow your business, get in touch and speak to an expert member of our team today.