Understand How Territory Maps Help Franchisors Give Their Franchisees the Best Opportunities to Maximise Revenue and Sustain Growth.
---
Supporting Your Franchisees
Supporting and motivating your Franchisees is key to a successful franchise business. You want to give your franchisees the best opportunities for them to maximise revenue and sustain growth. But let's be honest, it isn't always simple. A major factor, however, is getting your franchise territory maps right, this is where are franchise mapping software can help.
Sizing Territory Maps Correctly
In this context, what is meant by getting your franchise territory maps right? The answer is basically territories that contain a sufficient number of prospective customers to establish a thriving business who also fit the right profile for your brand. And these potential customers need to be easily accessible whether you travel to them or they to you. You don't need a motorway running through the middle of your territory making access difficult for instance!
Determining Customer Profiles
So, what's a customer profile? This is simply a description of the type of people most likely to buy your product or service. Such as families with children aged 5-18, people over 65, businesses of a specific type and size and so on.
Some franchisors are very clear on who their best customer types are. For others, an analysis of customers, trading area and the demographics of that area are really beneficial in establishing concrete customer profiles. Such analysis can also help to establish the numbers required in a territory to make a viable business. This information can be married up with the types and frequency of marketing and sales activity undertaken by the franchisor which will give potential investors reliable insight into the amount of activity required to establish a successful business.
The sales territory mapping software will give you an unrivalled geographic visualisation of your market and opportunities. And the sales territory mapping and franchise territoy mapping location intelligence compliments your company needs for strategic planning and tactical execution.
Creating Franchise Territory Maps
So, once you know your customer profiles and how many prospects are needed in a territory, what's next? How do you actually design and make the territories?
You need to put together your customer profile and numbers needed with the actual people living in an area and effectively create territories around them. This is complex as you need to take into account: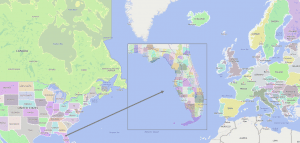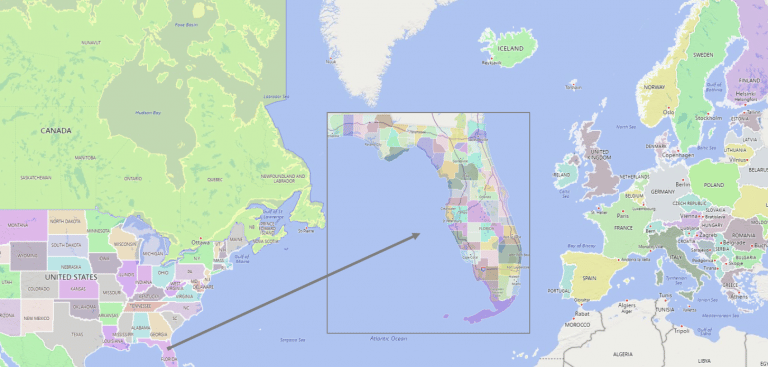 Information on the population, often census data or business statistics dependent on who you sell to
The level of geography that will form the 'building blocks' of your territories, which are frequently postcode sectors in the UK or 5-digit zip codes in the USA
Attractors drawing footfall to your location such as leisure facilities and stores of a particular type (up-market or budget for instance) if you operate a site-based business such as a restaurant, takeaway or gym chain
Other information relevant to your business such as the locations of local schools or healthcare facilities
To pull all this information together really requires a franchise mapping system of some description, not to mention the necessary skill. Using our franchise territory mapping software could be compared to using Microsoft Word though – whilst you can write with it, it doesn't make you a world class author!  That's why many franchisors prefer to rely on the expertise of a professional mapping company to create a territory network for them. It gives them access to experts with many years' experience in designing and mapping territories (and the associated data analysis). And can prevent difficult problems such as who can trade where arising in the future.
---
"We couldn't grow our franchise without the territory borders as it alleviates any argument about venues, it also gives us a structure to prove to buyers that the model is set in a certain way"
Dan McVerry, Sweaty Mama Ltd


---
Substantiating Territory Map Value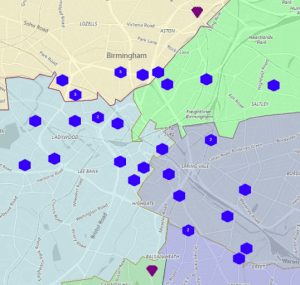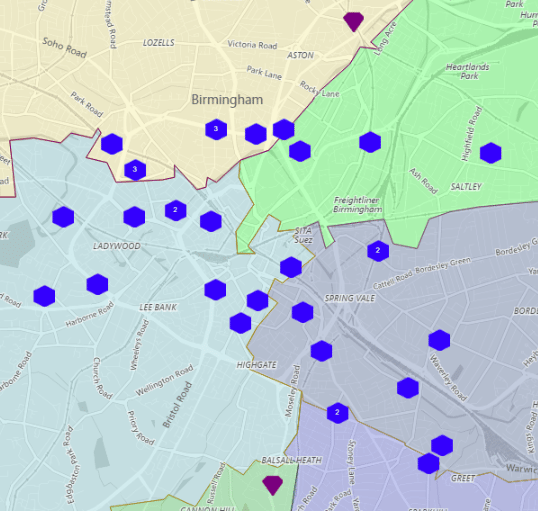 Territories frequently have the same investment value within a franchise, so it's only fair to ensure all franchisees have equal sales opportunities. If you take into account the factors outlined above, you can substantiate the basis on which your territories have been designed.
Although, as we do not live in a perfect world, equal territories are not always possible. In which case territories can be graded (indexed) to take into account any inequalities in terms of sales opportunity. This gives you a methodology to adjust the purchase price whilst keeping investment costs fair.
Supporting your Franchisees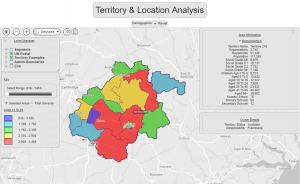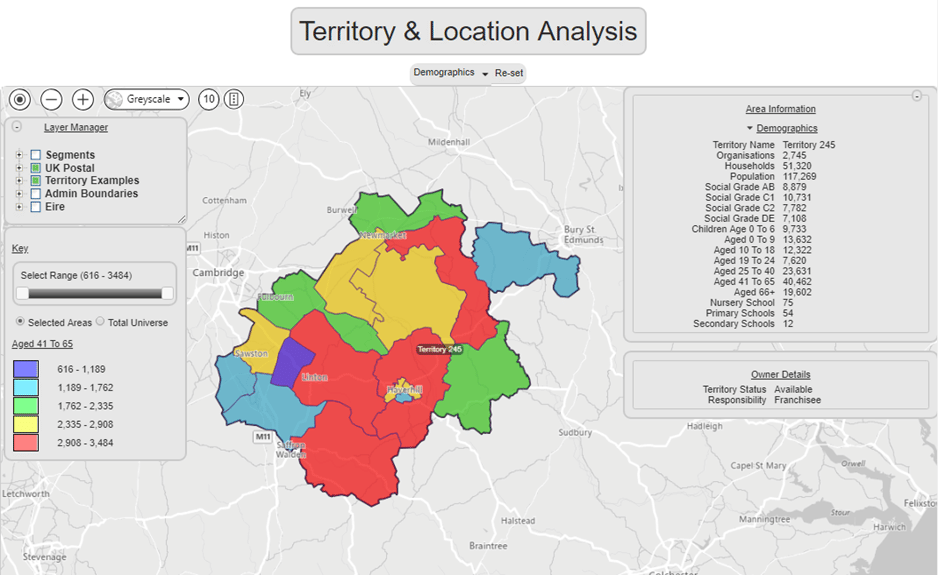 Once a franchisee has invested in your franchise you want them to have a positive start to working with you. The right mapping system can help here by guiding your franchisee to the best areas to focus marketing and sales activity on.
Easy sharing of interactive territory maps lets a franchisee explore their territory
Zoom access to target market information gives them the close-up picture
Heat mapping (colour shading) shows high and low concentrations of your target market
Exporting postcodes shows the best areas to target local digital marketing, canvassing or leaflet drops
If all your territories have equal sales opportunity, as time goes on you'll be able to compare performance knowing that all your franchisees have the same starting point in terms of potential customers. The sales territory mapping software will be able to identify any under-performers who may need extra support and those high performers who have developed best practice. As can be seen, territories are the backbone of your franchise organisation. Getting the design and size right at the outset is crucial to the long-term future of your franchise.
---
"Tech4T have worked in partnership with Mac Tools since 2016 providing a custom mapping solution for our franchise network both in the UK and Republic of Ireland.  Tech4T's consultative approach and understanding of our business goals has given Mac flexible mapping software which supports both expansion into new regions and growth in our franchisees' territories.
Ongoing support and training has been of a high standard and has enabled us to embed the Territory Runner eXplorer system into our daily work lives allowing us to support our franchisees to build successful businesses."
Lesley Cobb, Franchise Operations & Recruitment Manager, Stanley Black and Decker

---
 Tech4T has over 25 years' experience in franchise territory mapping software and sales territory mapping software. We are experts in the building of innovative customised Territory Runner systems designed specifically for franchise territory mapping and management. Our clients range from start-ups to international franchise companies with global Territory Runner systems. Contact us to see if we can help you help your franchisees become the best in the business.