Postcodes
Postcodes. We all know what they are and how to use them for addresses in day to day life. But do we ever think where these humble sets of numbers and letters come from? And the myriad of other ways in which they can be used?
For instance, they are vital to Tech4T's work. They are at the heart of much of our postcode mapping for sales territories, franchise territories and location planning services. So, we thought we'd tell you about the history of them, why they're used in mapping and how they bring great benefits to business.
The History
Postcodes as we know them today, were introduced in 1965 to organise and make the process of delivering mail easier. Although they were introduced only 53 years ago, the concept has been around since the 19th century, when people used post towns and names to send mail to the correct recipients. The volume of mail being sent began to increase in the 1850's, so it was decided that a more organised system needed to be put into place. This started with the splitting of London into EC and WC. This approach filtered out throughout the country, and by 1934, major cities such as Liverpool, Birmingham, Manchester and Edinburgh were split into numbered districts.
But soon this wasn't enough. The volume of sent mail continued to grow, so it was decided that a new solution was needed. The Royal Mail introduced a mechanical sorting system to make the process of sorting easier. This meant they needed to make addresses machine readable. A codal system was first introduced into Norwich and proved to be successful. Due to its success, Labour Minister, Tony Benn announced the 8-year programme to extend the new postcode system to the whole of the UK, starting in Croydon in 1966 and finishing with the re-coding in Norwich in 1974.
For more information on the History of Postcodes, visit the Postal Museum Website.
The Structure of Postcodes
CB = Postcode Area – 124 in the UK
CB2 = Postcode District – roughly 2,480 in the UK, usually 20 districts in each area
CB2 1 = Postcode Sector – around 9,000 in the UK
CB2 1RB = Unit Postcode – circa 1.8 million in the UK with around 15 addresses in each
The graphics below show a Postcode Area split down to District Level and then Sector Level. Click to see more detail:
Postcodes – Building Territories and Siting Stores
As mentioned, Postcodes are an important part of our work. That's because Census data and other demographic and business datasets can be linked to postcode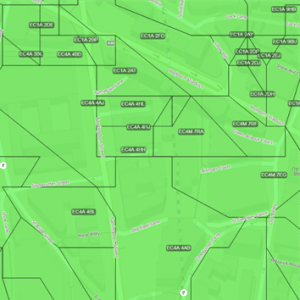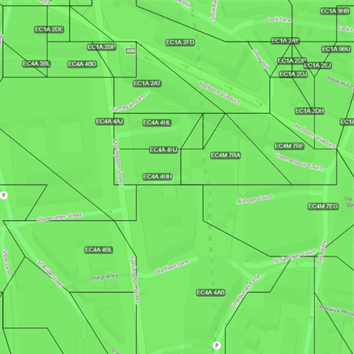 boundaries. Demographics can show all sorts of information about the population so this can help companies pick the best areas to sell their products and services in. We mainly use Postcode Sectors when creating territories or siting a new outlet in the UK. This is because the size of a postcode sector is small in comparison to  postcode areas or districts so it gives greater flexibility in designing territory boundaries. Depending on requirements, however, we can also use unit postcodes for location planning. As you can see from the graphic on the right, this shows street level.
Creating Territories
The first thing we need to understand is the type of people (or businesses) someone wants to sell to. We call that a customer profile (an ideal customer). Some companies have several ideal customer profiles. We then match the customer profiles to relevant demographic data such as children aged 5-18 or over 65's for instance. There is plenty of choice. There are around 17,000 variables in the Census alone and many open source and commercial datasets available.
The next step is to join Postcode Sectors together to form territories. How many sectors to join? That will depend on two things:
The number of people with the right customer profile a business needs in each territory to make enough sales
The number of people with the right profile in each postcode sector
Fortunately, we can count the number of ideal customers by postcode sector as we join them together to get the right number. Territories will vary in size geographically, particularly urban areas compared to rural ones. Bigger is not always better! What's important is the number of potential customers in each territory and easy means of travel to get to them (or for them to get to you).
Using Postcodes to Site Stores
Many businesses gather customer address information, either as part of the sales process or through marketing offers. This can be combined with demographic and postcode data to calculate how far people are prepared to travel to a store or restaurant. This is called the catchment area around an outlet, which can be viewed on a map as a band around your outlet with, for example, 10 or 20 minute drive times or walk-times.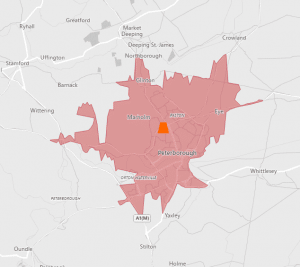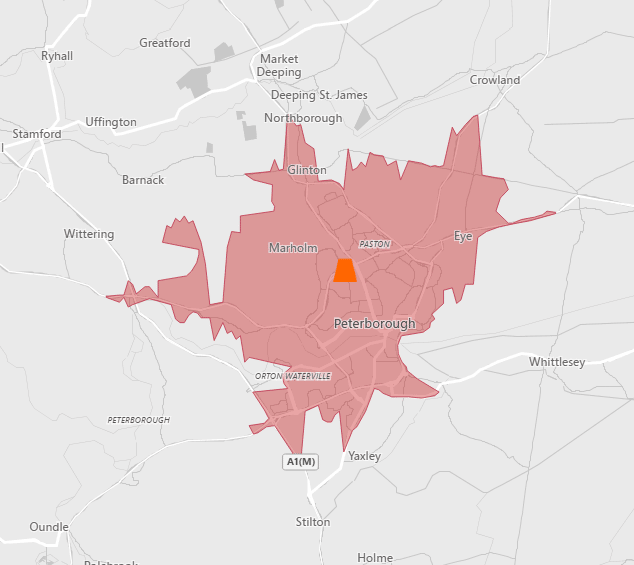 Once you have established your catchment area, demographics will give you information about the people living in them. For instance, do they live in mainly affluent areas or is bargain hunting more important to them? This is all great information when deciding on product lines and your marketing messages.
When you're opening new stores, you can use postcodes and demographics to analyse and compare your stores and use this information when selecting a site for a new one. Simply replicate the characteristics of the best performing stores in other areas around the UK.
We hope that this has given you some insight into why postcodes can be so important to a business and the way in which we get the most out of them for our clients.
Tech4T are experts in applying location intelligence to territory mapping and location planning, delivered in our customised Territory Runner international mapping systems.
For more information on our services or systems please call 01733 890790 or send us an enquiry.