Tech4T B2B data supports Grassroots HR franchise growth
Award winning HR consultancy, Grassroots HR recently launched their first pilot franchise territory in the Surrey area.
As part of her commitment to ethical franchising and to ensure the pilot gets off to the best possible start, Managing Director Natasha Schofield wanted to provide her newest franchisee with a B2B prospect list for targeted sales & marketing activity.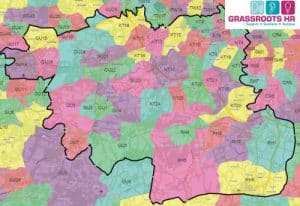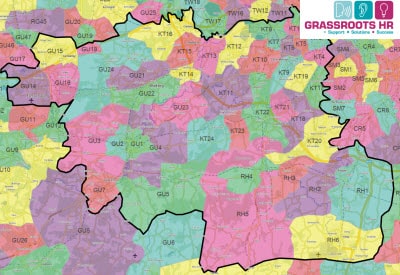 Selecting the right type of businesses in the right locations was critical. Using our B2B prospect data universe combined with our geographic mapping capabilities, we were able to help Natasha select the right prospects in a geographical area that worked for the franchisee. We were then able to map the territory boundary based on target B2B prospect list data and produce a map for Natasha and the franchisee.
"Selecting the right B2B prospect list data partner was really important to me, I've bought data in the past and it hasn't worked as well as it should. Tech4T worked with me to hone the types of businesses I wanted and helped me make sure that they were in an area that was workable for my franchisee." – Natasha Schofield
About the business: Grassroots HR helps business owners stay in control of every aspect of their company, including their people. They understand human resources and staff development inside out, so clients don't have to.
They make it their business to know the latest changes in legislation and the tribunal judgments that affect the law and how staff are managed. They provide up-to-date advice and share best practice.
Natasha has held numerous senior positions. She has a real passion for supporting business owners, motivation and reward, performance improvement through training and coaching, problem solving and using the right people to grow businesses. In 2011 Natasha and Grassroots HR won the Enterprise Vision Award (EVA) for Professional Services after a challenging Dragons Den style interview process and public vote. A fitting accolade for a thriving and dynamic HR Consultancy.
We wish them every success and look forward to supporting Natasha develop her franchise territories.