Improving Engineer and Distribution planning – optimisied territory boundaries saves money and improves customer satisfaction.
It's not all sales and franchise territory work here at Tech4T,  from time to time we are approached by companies wishing to improve engineer coverage or create better logistics and distribution planning territories. In fact one of the products we use in our engine room is built upon an award winning distribution logistics software engine.
Whatever method of distribution or logistics you operate, it is important to take account of the following goals:
Minimise drive time and travel cost.
Maximise customer satisfaction with timely deliveries.
Prevent cross-over – drivers passing each other when delivering your products or servicing clients.
Maximise vehicle delivery capacity.
Contingency plans – if resources are fully used or there's a breakdown, what do you do?
We still see an awful lot of businesses who rely on distribution planning or resource logistics created by hand-drawing territory boundaries onto a map with little thought put into what the impact of that territory structure will be.
Whilst this can work in some instances, applying a more scientific process that takes account of drive times can pay dividends and substantially reduce costs. The cost of an engineer not being able to reach a critical breakdown or spread over too much ground can have far reaching repercussions when it's time for contract renewal.
The following three maps show: hand drawn distribution areas based on main roads and their intersections; the same three distribution areas translated into digital maps; and finally, new distribution regions designed using drive times.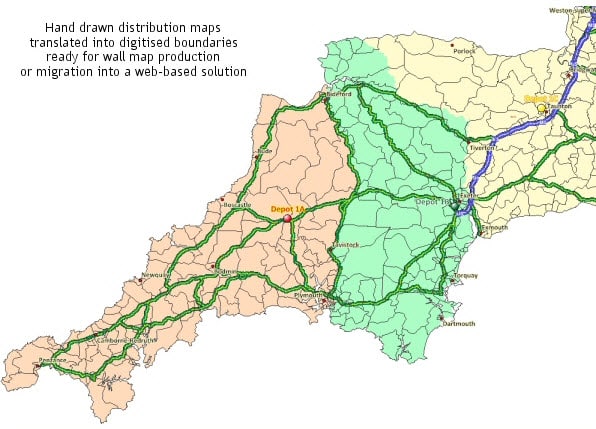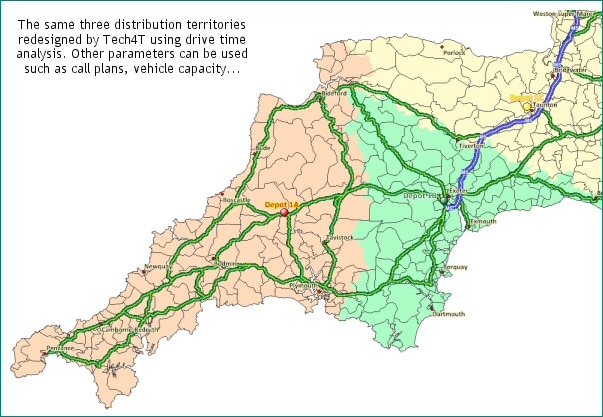 Tech4T can examine your existing engineer coverage or distribution areas together with the customers you serve and products you distribute including their size and weight, the vehicle capacity, customer demand, and any preferred call planning.
We then use data and spatial analytics to design an optimised distribution plan, with output produced as wall maps, wall map tiles, as driver documentation, and also as a web-based solution through our Territory Runner application.
We can also help you model "what-if" scenarios, you'll be amazed at how small territory tweaks can have profound impacts on customers and your profitability.
Please do get in touch with us if you would like to find out more.