Personalised Maps can boost DM response rates by up to 40%!
"Recipients of direct mail containing customised maps have been shown to generate a 40% higher response than those who receive a static map or no map at all."
(Source: April 2006 article in Graphic Arts Monthly)
These attention-getting variable maps break through the clutter of generic mail and email and deliver information needed to find you, locate other locations, or see where the closest offers unique to each person can be found.
Personalised maps are small individually customised map images, tailored to each recipient of your mail or email communication. What is displayed on each map is totally variable and driven by information known about that recipient; reflecting interests, preferences, past purchases (and where obtained), anything you like!
Example applications.
If the information can be located on a map, then it can be used; whatever you feel is relevant and will generate interest and response. You can include points and/or stores of interest, individually selected based on previous trading or product interests, and integrate location-based offers, tailored to the individual. Redemption bar codes can also be included.
Consider linking individually personalised maps to promotional activities and competitions – such as 'find the pot of gold' – where each map shows several locations close to the consumer's home where the gold is located, and asks the recipient to pick the location number from the map to try to win. This generates increased response and improves customer engagement.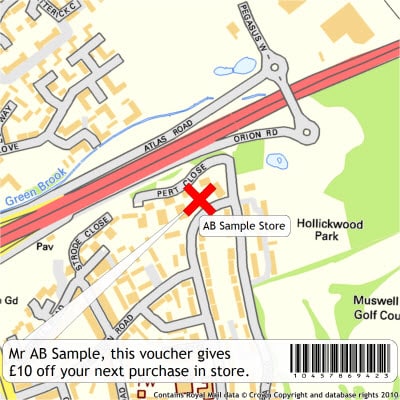 Here are some other ideas.
Introducing a new service using welcome packs that include a personalised map. This could be to help increase market penetration, sales value and frequency or to improve loyalty for affiliates.
Launching a new retail outlet or trade counter, and showing the prospect its location in relation to their home.
Introducing new stockists to your customer or prospects, or showing nearest branch, store, office. Ideal for franchise operations.
Showing the 'nearest' accommodation, entertainment, activity, places of interest to visit, car parks, drop-off/pick-up location, shop, trade centre… to each and every individual on your database. Ideal for travel brochures – printed and online – where places of interest are shown with respect to the proximity of the accommodation.
For membership directories, network services, etc., showing the location of members in relation to other members or to the consumer.  Include barcodes to redeem personalised offers.
Inviting prospects to an event (conference, seminar, exhibition, show), with each map showing the event location in relation to that of the individual.
'Pick one' competitions where each individual map shows X locations where 'a prize' can be found.
Showing the location of nearest medical support to the consumer – doctor, hospital, dentist, clinic…
'Nearest schools to properties' – ideal for estate agents, or nearest new properties, show houses, etc.
If you're considering the use of personalised maps in your next direct mail or online campaign please do get in touch.