Online mapping software experts Tech4T launches Territory Runner for franchise territory mapping & sales territory mapping.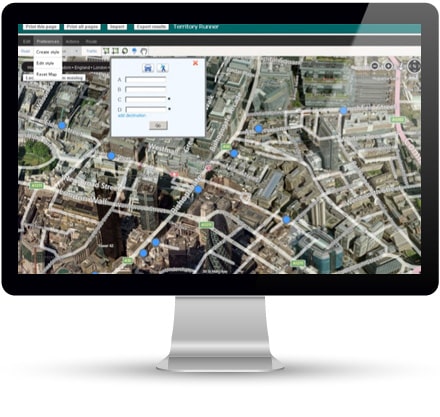 Tech4T are proud to announce the launch of our in-house designed and developed Territory Runner online mapping software. Territory Runner's release is the result of nearly 2 years worth of planning, design and development.
We have consulted with and listened to our clients during these intensive planning phases. The end result delivers a "swiss army knife" array of capabilities for businesses that need to operate within clearly defined territory structures.
We have designed Territory Runner with 3 main audiences in mind: Franchisors, Field-force clients, Retail & Brand owners.
We would like to thank everyone who contributed and for those of you that haven't heard of Territory Runner before, here's a quick overview of what it does.
The Database
Our online mapping software is super fast storage of customer, prospect, retail store, franchise information together with a whole host of custom options and query functionality.
The Map
Based on Bing Map API – instantly visualise and explore any data you wish to associate to the map such as points, people, places, territory or team structures.
Worldwide
Modern businesses operate globally so does our online mapping software system.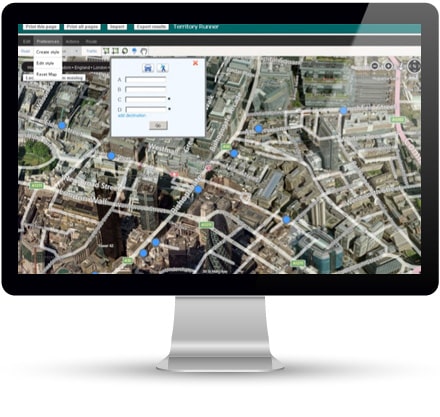 Territory Design
You can create your own franchise territory mapping or field sales territories using postal geography, demographics or simply free draw. Franchise territory design within the system couldn't be simpler, no expensive cartographic software required and you don't have to be a mapping ninja to use our tool!
Demographics
Territory Runner is online mapping software that comes pre-loaded with Census information, demographic information. We can even load our online mapping software with your prospect lists for you!
Multi-Layers
Want to see more than one brand or territory structure in the same system? No problem. Equally demographics or your data can be used to build up unique layers such as customer types, best-performing customers or stores etc.
Team Access
Our system is completely online, access from anywhere, anytime via a web-enabled device. You choose who is allowed access to which pieces of information/functions.
Report
A wealth of standard reports can be created and stored tracking changes over time, keeping track of activity, sales forecasts, etc with our online mapping software.
Visit Scheduling & Routing
For businesses with a field force or sales territory mapping software is an invaluable module, allowing less time to be spent driving and more economical routes taken to and from visits.
Back-up & support
Our online mapping software is fully hosted by us or your side of the firewall – you choose. Either way, we're here to support you via our helpdesk, email and in-person.
These are just a few of Territory Runner's key features. For more information click the button below or get in touch with us to request your own demonstration.