Sales reps efficiency improved at Costa Coffee using Territory Runner.
[custom_frame_left shadow="on"]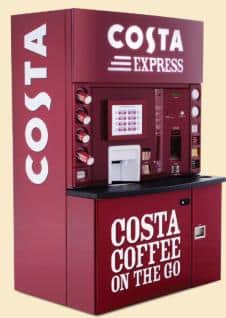 [/custom_frame_left] As part of a drive to improve efficiency of their field sales reps, Costa Coffee Express & Proud to Serve approached Tech4t to help them:
1. Design a field sales territory structure; merging two disparate field-sales/agent teams.
2. Improve the efficiency of the sales reps through improved customer insight, visit scheduling and route planning.
3. Steer the field sales team to increase existing customer value whilst promoting new business growth through prospecting.
We were able to do all of the above using our innovative Territory Runner application which the field sales team use on a daily basis to plan and track their work.
You can read all about how we helped Costa Coffee and more in our client case studies section.
[pullquote style="left" quote="dark"]The team are happier..The number and quality of visits made per sales rep has improved[/pullquote]
To speak to one of our consultants to see how Territory Runner could benefit your business and your sales reps please get in touch.