Sales territory re-alignment underpins new business drive for Eurolink Connect.
Eurolink Connect is a complete connectivity and telecommunications provider; established in 1999 in Stonehouse, Gloucestershire.
The business has been built by providing a service which is second to none; driven by a formidable workforce who believe in the power of working with real people and understanding their customers' needs.
Within the past 15 years, Eurolink have seen impressive organic growth and have developed into a national provider of hosted IT solutions & support, as well as telecommunications for a diverse client base; ranging across multiple industry sectors working with SME's through to large corporate accounts. (For more information about Eurolink please click the logo above)
With a desire to bolster the UK field sales force, Operations Director Claire Maddox looked for a partner that could visually deliver and advise the best strategy for implementing a national field sales territory structure.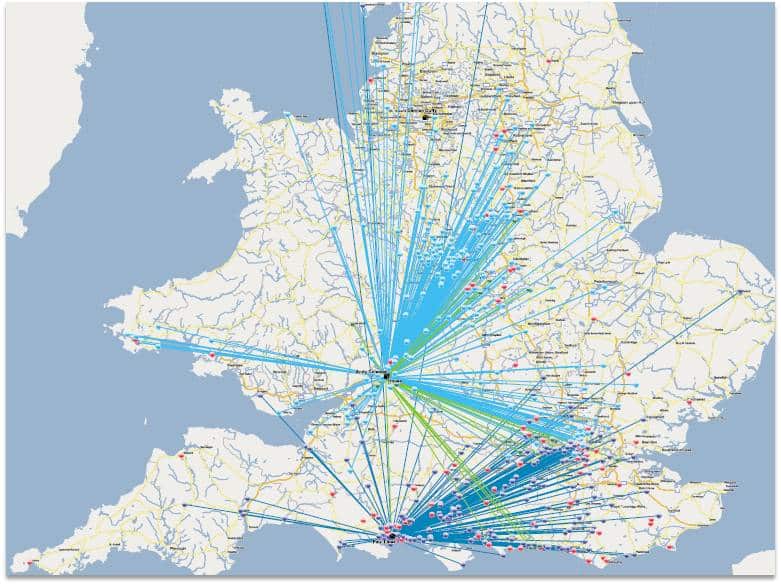 Combining our data analysis capabilities with our web-based geographic mapping software, Tech4T carried out an initial audit and assessment of the current picture helping to visualise;
– Client to rep relationships.
– Drive-time.
– Analysis of customer profiles and geographic distribution.
– Analysis of customer penetration by industry type.
– Analysis of customer penetration by customer scorecard.
– Different options for the geographic territory split.
The outcome of our analysis is a geographic territory split that re-assigns the existing customer base evenly across the new sales team ensuring revenue is protected and growth targets can be met.
Now entering into a second phase, the project will seek to identify the best course of action for delivering the new business sales budget, identifying and converting new business prospects within each territory.
Our methodology will be based on making the best use of the available selling time per rep,  i.e maximum number of visits per day to the right prospects at the right time whilst still servicing the existing base.
To find out how we approach field sales territory design and new business development please get in touch with one of our consultants using our contact form or speak to us directly on 01733 890 790.