Geographic mapping software helps Sales and Marketing functions be more targeted
In this post we explore how geographic mapping software applications can be used by marketing to help field sales teams meet new business targets.
Picture the scene, you're a marketing manager in a B2B business and your sales director has asked the marketing department if they can help generate leads that the field sales people can follow through for new business wins.
Often in business, functions such as marketing and sales still operate as separate entities, however with a little collaboration and some help from a geographic mapping application these two disciplines can work in harmony ultimately driving better return on investment for the marketing department and helping the field sales people target their activity.
In our example earlier the sales director has reached out to marketing to host an event that he or she can invite prospective customers to. The obvious place to start is to identify a suitable venue for the event in the right location to attract prospective customers.
Here's the first place that a geographic mapping application can help. Using software built around Bing maps or Google maps allows the marketing department to find the best venue for ease of accessibility to as many prospects as possible. Transport infrastructure and proximity to local amenities all play a part in finding the right venue.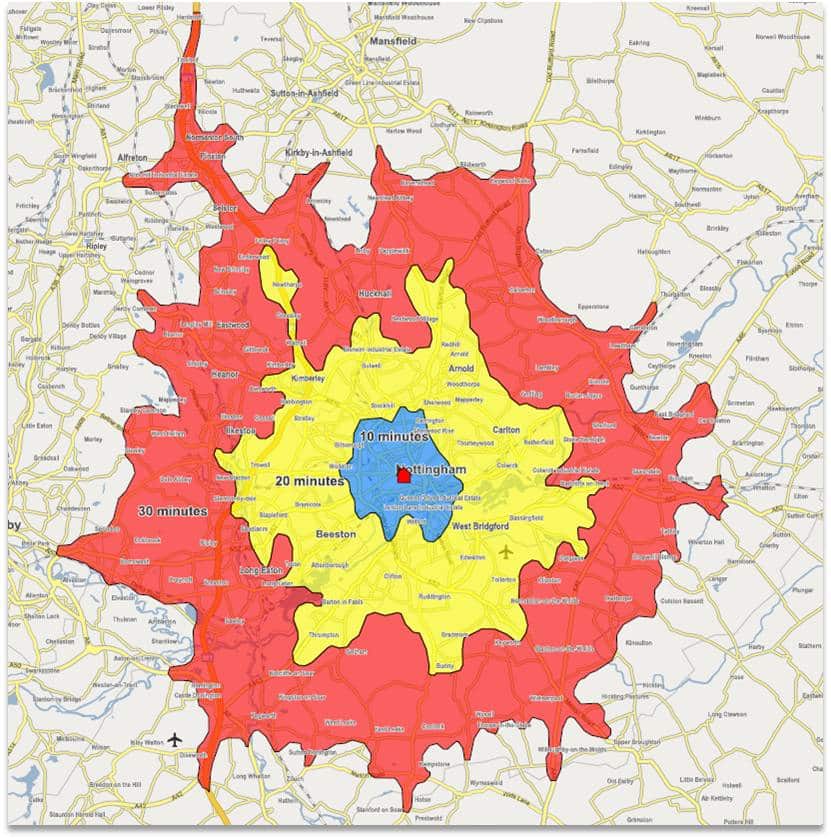 Next up, who should be invited to this event? The obvious choice for marketing is to source a prospect list, either from data already held within the business or reaching out to external data providers.
The sales people will also have prospects that they wish to invite and not forgetting key existing customers that should be invited to the event in order to ensure their continued support of your brand.
Sending out paper based communications is a costly exercise, duplication must be avoided not only from a cost perspective but also to protect your brand image. We've all been on the receiving end of duplicate items through our letter box from the same company. This doesn't portray that company in a very good light.
With so many separate sources of data, sometimes held on paper, sometimes held within CRM systems or excel files, the next marketing challenge is how to make sense of all this data.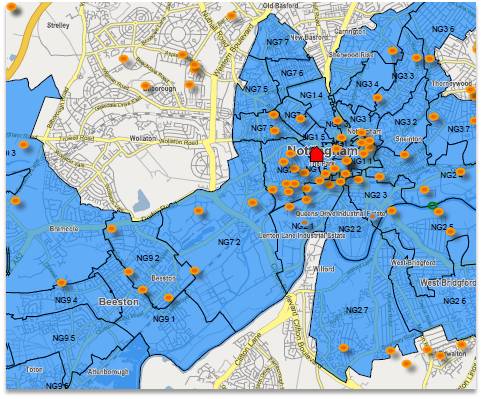 Here's where our geographic mapping software steps in once more, importing data onto the map allows us to quickly visualise our intended recipients and colour code different data elements for ease of analysis.
Flipping between customers, sales prospects and externally sourced prospects is easy, allowing us to make informed decisions about who to target.
Most geographic mapping software applications contain drive-time functions so rather than blanket mailing the whole file we can use our drive-time function to precisely target those prospects most likely to attend based on proximity.
In the map above a venue has been selected in a central Nottingham location, our drive-time analysis shows a 10, 20 and 30 minute drive-time.
Depending on the time of day you wish people to attend your event this can be significant. If it's an after work event, asking someone to drive more than 30 minutes could be a tough ask unless there's a very compelling reason to do so.
Having imported our data into the geographic mapping application we can then use underlying postcode information to only select those postcodes of interest.
In this example selecting postcodes within a 30 minute drive-time of our venue can be used to define the selection criteria for the prospect data we need. In the case of an externally sourced prospect list this will save you money as you will only be buying data you need!
A geographic mapping application can be invaluable post campaign too.
Identifying those prospects that attended our event or responded to our campaign and showing them on the map  allows the field sales team to be more targeted in their visit plan next time they are in a particular prospect's vicinity.
In the case of responders, the map could show neighbouring prospects that didn't respond this time but could still be visited by a sales rep to find out why they couldn't attend.
This is just one example of how a little lateral thought with the right tools can make previously labour intensive and gut feel driven marketing tasks simpler, more effective with greater levels of visibility throughout an organisation.
To ask for a demosntration of how our geographic software and mapping applications could help your business please get in touch using our contact form or directly on 01733 890 790.