When it comes to the sales plan, tackle your field sales territory structure and the rest just might follow.
A recent conversation with a client reminded me just how far we've come with the bewildering choice of sophisticated software tools and services available to the modern sales manager and director.
CRM companies like Salesforce.com have helped open up the previously mysterious world of the pipeline across entire businesses. Sales conversations and outcomes can be analysed better than ever before. Senior managers receive reports on a daily basis, sliced, diced and cut every way possible.
We were discussing how in the good old days, a sales territory was a line drawn on a map on the office wall (assuming as a lowly sales manager you were lucky enough to have an office wall!)
Pins of various shapes and sizes were used to show particular customers, prospects or places of interest on a sales manager's journey.
In some respects, regardless of the tools available to help sales managers, success or failure, hitting budget or not can come down to something as simple as the way your territories are structured.
All too often when it comes to sales plan and budget time, conversation turns to what will be delivered in terms of a number and how we're going to  "sell more stuff", not necessarily about the geographic structure we have in place to do so.
At Tech4T we believe that having robust, well thought out sales territories based on the facts about your business and the market you operate in hold the key to delivering and exceeding your sales budget.
The ability to review and refine sales territory structures and how patches are carved up is equally important. Things change, people come and go, the geographic areas need to stay in sync with business evolution too.
Having geographic mapping software and business intelligence tools is a necessity when building sales territories; but without a methodology to follow an awful lot of time can be spent running down blind alleys pouring through endless Excel reports.
Tech4T have honed the sales territory design process into a four step model that helps us guide our clients to the best sales territory design for their business.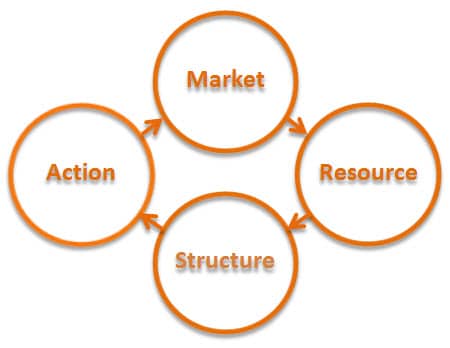 Market
Our first starting point, we look at your existing customers, what their purchasing and engagement behaviours look like over time and how they've interacted with you.
We then look externally at the prospect universe, where they reside and what level of opportunity they represent.
Resource
Setting a high bar is a good thing, but if you set unrealistic expectations of the field sales managers, failure is inevitable.
Tech4T examine where reps are positioned and their ability to meet the demands of the itinerary required to engage them.
This step also reveals interesting facts about where gaps and overlaps in coverage are, where you might need to recruit or position additional sales force members.
Structure
The structure is how geographically the field sales team will be aligned to deliver the business objective and the budget.
This is the map that will be placed on the sales manager's office wall. (These days we prefer to deliver it back via our Territory Runner application!)
There's often no clear cut right or wrong answer here. Time needs to be taken to explore different scenarios as to how territories can be defined geographically to secure team buy-in.
Action
Action relates to how each individual field sales manager will carry-out their daily duties. Which customers will be seen, when and in which order. Also how prospects will be allocated and weaved into the sales diary.
Taking advantage of the sales related technology available to us we can deliver back a daily visit and route plan that can be followed on a tablet such as in iPad out in the field.
[pullquote style="left" quote="dark"]Historically territories were defined manually, spreadsheet driven, prospecting was very difficult, it used to be a huge headache – Premium Credit[/pullquote]
Sales Territory mapping and design need not be a headache sapping valuable company resources.
If you would like to speak to someone about your sales territories please do not hesitate to give us a call directly on 01733 890 790 or use our contact form to get in touch with us.
Article written by Dimitrios Kyprianou, Sales Director, Tech4T.  E: dimitri@tech4t.co.uk