FREE A0 franchise territory wall-map for Approved Franchise Association members.
We are delighted to announce our partnership with the Approved Franchise Association (AFA) to provide their growing member base with helpful advice and services for franchise territory mapping.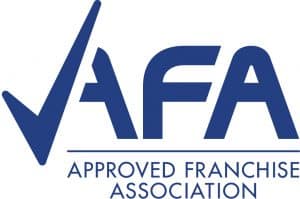 The AFA was the collective idea of Gordon Blood and Craig Brittain, who came together by chance as Franchisors.
Built on Ethical Franchising and very clear values & principles, the AFA developed into a very real alternative Franchise Association. Along with a very supportive team behind him, Craig launched the AFA in January 2012.
The AFA has decided to adopt the Code of Ethics for Franchising from the European Franchise Federation and undertakes not to change or adapt it in any manner. You can read the full code here: https://www.theafa.org.uk/
Craig has been involved with the AFA from the beginning.
Craig comes from an entirely successful career as a Commercial Manager, with over 20 years industry experience, along with running and owning his own enterprises.
He brings to the franchise community additional experience gained from his family business, franchising for over twenty years.
Business owners looking to Franchise their business can expect to receive valuable resources, advice and guidance from Approved Franchise Association partners to help them understand the process and assess if it's the right choice for them.
The acceptance to partner status is a real feather in our cap. AFA partners must satisfy stringent criteria prior to acceptance such as;
Gain Credible Recognition.
Professional Profile.
Add value in the franchise industry.
Promote Expertise to others.
Provide support to the franchising community.
Collectively enhance franchise and their own industry standards.
To celebrate the award of partner status by the AFA we're offering all members a free A0 franchise territory laminated wall-map worth £149 with every franchise territory design project.
For more information about the benefits of joining the AFA please follow this link.
To speak to us in more detail about franchise territory mapping please get in touch via telephone; 01733 890 790 or via our contact form.