British Franchise Association exhibition accreditation for Trevor Nicholls and the team.
Well we're delighted to announce their exhibition accreditation by The BFA (British Franchise Association). They are also full members of The Approved Franchise Association (AFA).
We reported a while back detailing our franchise territory mapping project for the The Leaflet Delivery Company.
Testimonials from customers and franchisees are one way to establish credibility in a franchise business, but trade and industry membership bodies that vet their members and do checks on them are even better.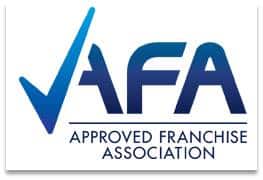 The Leaflet Delivery Company are the only Milton Keynes leaflet distribution company that are approved by Trading Standards and are members of The Leaflet Distribution Organisation.
Congratulations to Trevor and the team. To find more out about The Leaflet Delivery Company please click on the logo above. You can read the full case study of our franchise territory mapping project with The Leaflet Delivery Company here.
[pullquote style="left" quote="dark"]I've been very impressed with the speed and efficiency of the team at Tech4T and I'd fully recommend them." – Trevor Nicholls, MD[/pullquote] If you're interested in creating franchise territories for your business whether you're a new franchisor to market or an existing franchise business looking to boost your territory performance, please use our contact form to get in touch.
Each and every one of our franchise customers received a dedicated franchise mapping consultant for their project. Our franchise territory mapping consultants are qualified to advise on all aspects of the territory design process from business planning defining the right territory size through to final map output.
Tech4T are also happy to field any questions from prospective franchisors, maybe you're thinking about starting a franchise and would like some advice on how best to create territories. We're happy to help.